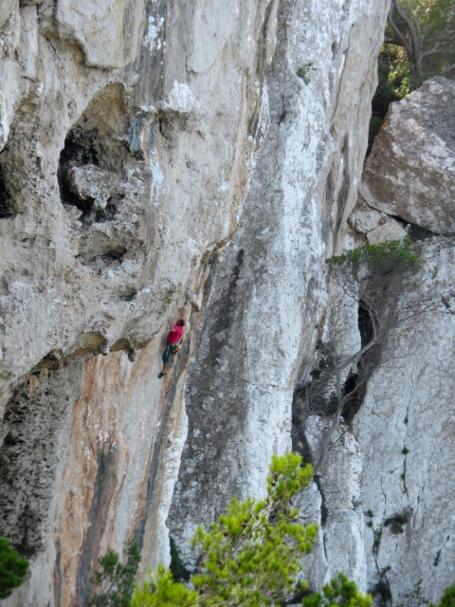 The big cliffs of Torre de Lluc provide plenty of shade and can be climbed throughout the year.
The Ibiza Climbing Season
It is possible to climb in Ibiza throughout the entire year, though the autumn and spring generally give the best conditions.
The summer tourist season runs from the middle of May through to early October, during which the main towns and beaches are likely to be busy. The sea cliffs along the northern coast, however, provide a peaceful escape from the crowds and many north-facing crags are climbable even in hot weather. By the middle of October, many tourist facilities such as watersports, boat hire, bars and restaurants begin to close for the
winter.
Out of season (from November to April), the island is very quiet and most of the bars, restaurants and other tourist facilities are closed. It is, however, still possible to find
accommodation and climbers visiting during these months will enjoy a very peaceful, rural climbing experience. Some of the crags can be slippery due to humidity, particularly when there's a sea breeze.
May, June, September and October probably provide the best compromise, when hotels, bars and restaurants are all open and thetemperatures are ideal for climbing.
Getting to Ibiza
By Air
Ibiza airport handles some 6 million passengers each year, so it will come as no surprise to learn that Flights to the island are frequent and cheap, with budget airlines operating services from all over Europe.
From the UK, daily flights operate from spring to autumn from a variety of airports including London, Manchester, Liverpool and Glasgow. In winter, flights are less frequent but prices drop and some excellent deals are available.
By Sea
Baleària and Trasmediterranea both operate ferry services between Valencia and Eivissa, with crossings costing between £100 and £200 depending on the time of year.
Car Hire
To reach the crags, it will be necessary to rent a car – these are cheap and plentiful, and can be easily reserved online for collection at the airport.
Accommodation
The two main accommodation options are hotels in the resorts or self-catering Fincas in the countryside. Prices and availability vary enormously by season.
Staying in one of the resort hotels is usually the cheapest option, particularly in spring and autumn outside of the main tourist season. The lively town of Sant Antoni has the widest range of hotel accommodation, though some of it is very 'low-budget' and the town can be a bit raucous during the clubbing season.
Further north, the village of Port Sant Miquel is probably a better option. This much smaller resort has fewer hotels to choose from, but has a lot more character whilst still providing all of the amenities such as bars, shops, restaurants and a good beach. Its main
advantage, however, is the fact that it is very well situated for most of the
climbing on the island's north coast.
For groups or visitors looking for self-catering accommodation, many villas (fincas) are available throughout the island's interior. These can easily be found and booked online.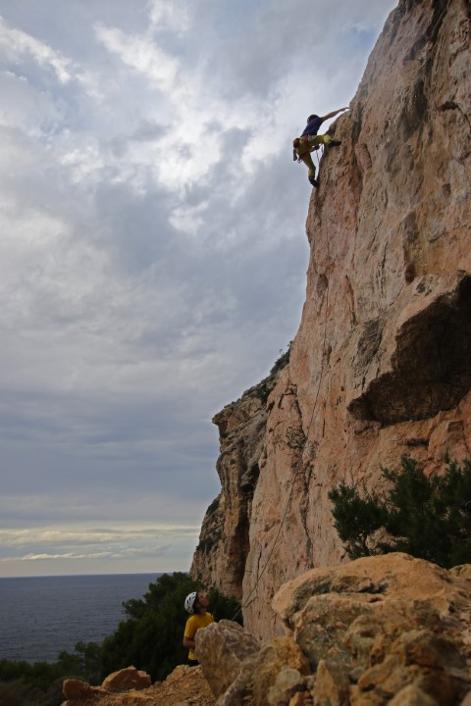 Climbing at Ses Fontanelles near Sant Antoni on Ibiza's west coast. These fun little crags have a short walk-in and offer a good range of grades for everyone.